New OS: OS X Mavericks
Just when you got over the shock of the new iOS 7 for iPhones and iPads, there was a second announcement last week...
Apple previewed OS X Mavericks, the next operating system for your Mac.
[Having run out of big cat names such as Lion, Panther, Cheetah, they have now started to name their Mac operating systems after Californian
locations
].
OS X Mavericks will arrive this autumn, around the same time as iOS 7, and will cost approx. €10-15 (price not yet confirmed).
Here is a quick summary of some of the changes and new features which Apple announced:
1/ Calendar:

Hate the leather trim in the current OS X Calendar app? You are in luck! The new version of Calendar has a cleaner more simplified look:
Current calendar trim under Mountain Lion:


New look under OS X Mavericks:


Calendar will also integrate maps, so it will give you an estimated travel time to your appointment plus a map of where the event is to be held.
2/ Safari:

The new version of Safari will have a sidebar where you can view your bookmarks, your Reading List and links shared by people you follow on Twitter or LInkedIn: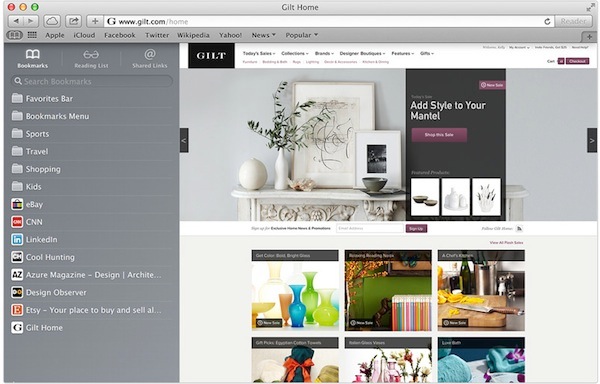 3/ Notifications:

When you receive an iMessage on Mavericks, you can reply to it in the notification panel in the top right of your screen without having to open the Messages application. This also works for emails and FaceTime- you can type a very quick reply without having to move out of the program you are working in.
This will mean less switching back and forth between programs to reply to messages.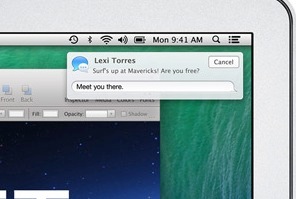 4/ Multiple Displays:

This won't be for everyone, but if you you connect your laptop to a big screen you will like the changes under Mavericks.
You can now use menus on both your laptop and your external screen. This may sound like a small change, but people who use an external display will know what I mean!
It will allow you to lay out documents on one screen with emails on another and work on either display.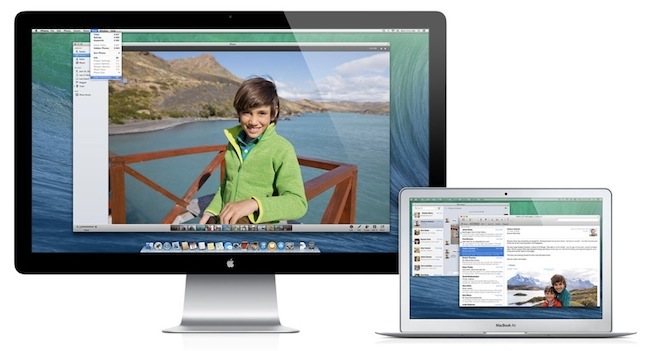 5/ Finder Tabs:

Up to now you may find that you open multiple windows in the Finder to be able to move files around between different folders. Now under Mavericks, you can switch between different locations from within the one window using tabs:

This should help to simplify browsing around and dropping files between two locations.
6/ iCloud Keychain:

This will allow you to enter a password on your Mac and then sync this to your iPhone or iPad through your iCloud account. This will mean you don't have to remember all of those passwords and re-enter them on all of your devices. This is particularly useful in Safari when entering website passwords.

7/ New app on your Mac: Maps

Maps is coming to the Mac and so you can plan your journey on your Mac screen. Then once you have set up your starting and end points and planned your route, you can send this plan to your iOS device (iPhone or iPad) and carry those directions with you.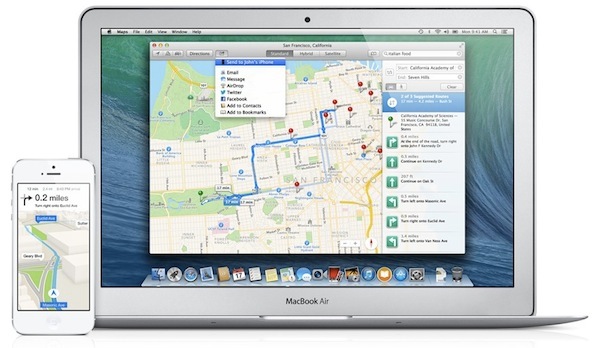 It has always been awkward to set up routes on the small iPhone screen and the new OS X version of Maps should make route-planning much easier.
7/ New app on your Mac: iBooks

Apple are bringing the iBooks application to the Mac. Up to now you could buy books on the Mac in the iTunes Store but you couldn't read them on your Mac. That is about to change, and you can read you novel or browse your text book on your Mac screen. Also, you can sync your bookmarks and your book collections between your Mac, iPad and iPhone.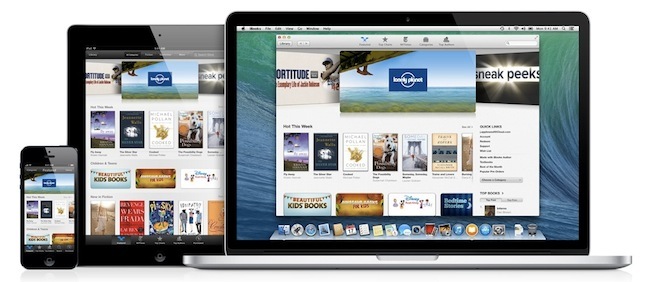 8/ Battery Use

OS X Mavericks should also be good news for laptops. The new system promises to be good news for battery use as it will try to cut down on apps draining your battery power. For example, if you leave a Safari webpage open in the background it may be running down your battery if it is running a video or an animation (such as an advert on a page). OS X Mavericks will try to freeze apps which are not visible and stop them from taking up battery power. Apple call this "App Nap" and you can read all of the techie detail if you wish at
this page
.
Conclusion:

Overall Mavericks looks like a good if relatively small update to OS X. Many of the changes will be under the hood such as memory and battery use. It fits into the new pattern which Apple set in 2012- one update per year for iOS and OS X.
You can check out further details at this Apple
address
.