Apple held a press event last week to introduce a number of new gadgets- here is a quick summary of what they announced:
iPhone 6s and 6s Plus:
The new iPhones come in the same shape and form as the previous iPhone 6 and 6 Plus. These models are aimed at people who are still using an iPhone 5s or earlier. Most users sign up for a two year contract and this is why iPhone 5s (or earlier) users are the target as they are now coming off those contracts. iPhone 6 users will only find marginal differences to lure them away from their current phone.

The main changes in the iPhone 6s models are as follows –
- comes with a brand-new A9 processor meaning that it is a lot faster (up to 70%) than last year's iPhones
- new 3D Touch technology which means if you press slightly harder on the screen it will bring up a pop-up menu with some different options to choose from. This is a great way to access features inside an application without having to tap through a number of screens.
- there are a number of improvements to the camera including an upgrade to a 12-megapixel sensor
- new colour- rose gold!
- faster WiFi.
Note:
- The storage options remain the same – 16, 64 and 128 GB. very few people should consider a 16 GB model as this is too small for most users.
- the new iPhones are available to order in the US and UK, but not in Ireland for another few weeks.
- in the US, Apple have launched an upgrade program in their Retail Stores. This means you can pay a monthly fee and always be on the newest iPhone- it costs around $40 per month and users get to upgrade each year to the latest equivalent model. It also comes with AppleCare+ and so gives a complete solution in a monthly fee:
iPad Pro:
The iPad Pro will be available later this year, starting in the US in November. This is a new model of iPad which is placed at the top end of the range, and will be useful for certain people who need larger screen space. The new screen is almost 13" and gives almost the same space as two iPad Airs. This is unlikely to become the mainstream model of iPad, but instead a device which will be used by professionals who need multiple applications and lots of space.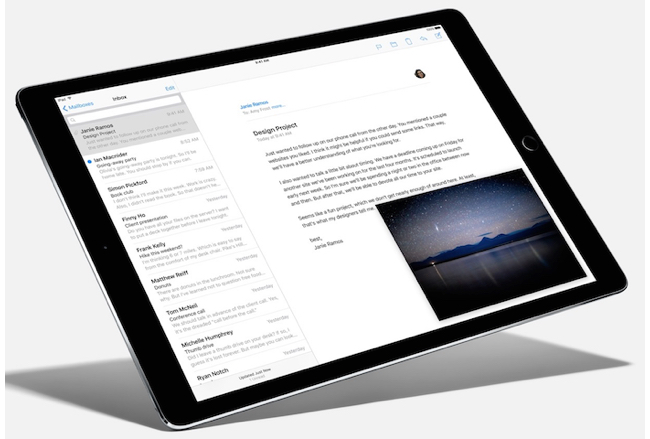 The iPad Pro can also be used with a new stylus (Apple Pencil) which will be helpful to designers and artists. The other accessory introduced is a keyboard which is built into a screen cover. This will make the iPad Pro a strong alternative to a laptop.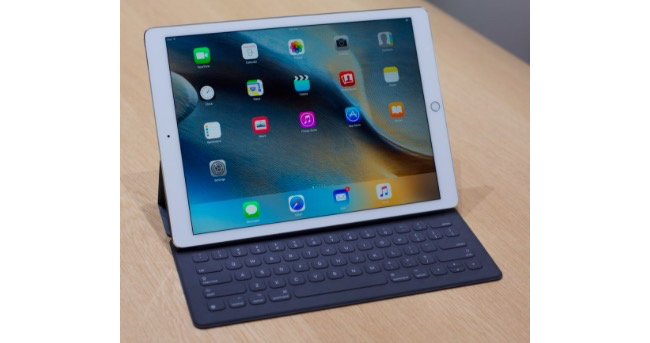 Apple seem to be aiming this iPad at the enterprise market. The iPad Air and iPad mini models are still available and remain unchanged.
Apple TV:
The new Apple TV opens up a whole range of new features, most notably apps and games. There will be an App Store available on the Apple TV where developers can sell a range of new apps. The look and design of the Apple TV interface has also been updated.
This positions the Apple TV as a living room multimedia device and not just for TV/Films and Music. The new remote control also acts as a game console controller.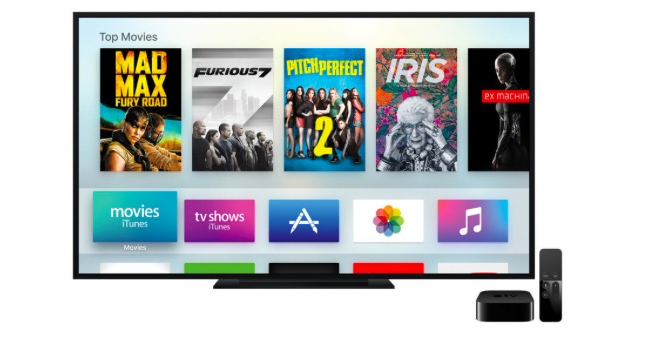 Siri (voice-recognition) is built-in so you can ask your Apple TV questions, such as for movie suggestions, information about who stars in the film you're watching or command it to open an app for you.
The new Apple TV will go on sale later this year.
Two other snippets:
- iOS 9 will be released this Wednesday, and will be available as a free download on your iPad and iPhone:
- the next version of OS X, "El Capitan", will be released on September 30th: