On April 10th, Apple started to take orders for its new MacBook laptop. This muddied the waters slightly as they already had two ranges of laptops for sale. So how do you choose the right laptop for the task in hand- here is a run down: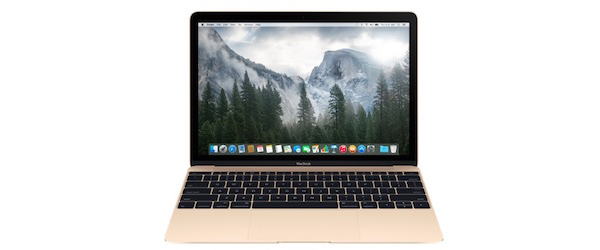 MacBook
MacBook: this is the new range and comes with very set options: all have a 12" Retina Display and there is a choice of two chip/storage options and three colours. The colours are gold, space grey and silver and the two chip/storage options are 1.1Ghz chip/256GB or 1.2Ghz chip/512GB (there is also a custom-built option of a 1.3Ghz dual-core Intel Core M chip, costing around 150 extra).
The MacBook is aimed at the traveller, student and people who want to prioritise weight and small size over power. The MacBook is Apple's thinnest laptop and is very light at around less than 1kg.
The MacBook is not the fastest laptop but most users would notice little difference between a MacBook and MacBook Air when using everyday apps.
The MacBook also comes with only one port- a new slim USB-C port which is smaller than a standard USB. You can buy Apple adapters to add external devices if you wish but this laptop is aimed at wireless users. This is a perfect laptop in the age of iCloud Drive, Dropbox, AirPrint, Bluetooth and WiFi.
I see this as the future- this will be the point to which Apple will head with the MacBook Air range. There are relatively few choices with the MacBooks (choose bigger or smaller storage/chip speed, and then pick a colour) and this matches the buying experience when you go to purchase an iPhone or iPad. This is a great mainstream laptop and we expect to see lots of these be sold in 2015.

MacBook Air
MacBook Air: this is still the default laptop for many people as it has most of the lightness of the MacBook, but has a wider range of ports with USB, Thunderbolt, audio and MagSafe 2 power. There is more flexibility on screen sizes with a choice of 11" or 13" displays and you can customise a MacBook Air to come with a 512GB SSD drive instead of the standard 128 or 256.
The MacBook Air is the middle choice- they stand between the ultimate lightness and portability of the MacBook, but are smaller (and slower) than a MacBook Pro. For people who need to plug in their printer or iPad and aren't ready to choose the minimal ports of the MacBook, the MacBook Air is a safe choice.

MacBook Pro
MacBook Pro: becoming more of a specialist choice, the MacBook Pro offers more processor and graphics power options, along with larger screens- 13" or 15". MacBook Pros come with 128, 256 or 512GB of storage and some allow an upgrade to a 1TB SSD drive. These are the fastest Apple laptops but the top 15" costs twice as much as the top of the line MacBook Air.
If you need a bigger screen, lots of power, extra storage and the extra ports, this is the beast for the professional video editor and power user.
Summary:
In 2015 we see most people going for a MacBook Air. The lighter MacBook will appeal to many of the busy business travellers, a students, and home users who don't need to connect extra devices. The MacBook Air is cheaper and so will suit many homes and users on a budget, plus the extra few ports will mean that it will be a safer bet for those who say "what if I nee to connect my...".
But I expect to see the MacBook Air phased out towards the end of 2016 or 2017, with the MacBook taking its place.
The MacBook Pro is the only option for those needing the bigger 15" screen and for people who work with power hungry apps (photographers, video editors, website and graphic designers, etc.). The new MacBook Pros are a lot lighter than a few years ago and come without a Superdrive (except for a legacy version which is still old). For most users, the MacBook Pro does not hit the mark, due to its extra weight and the higher price.
If Apple are to keep their traditional two laptop line-up, expect the MacBook to drop in price next year and to slowly take the place of the MacBook Air, with the MacBook Pro keeping is role as the all-powerful, professionals choice.
Simon Spence/2015